A Look at the Illustrators of the Disney 100 Collector's Edition
For the Disney 100 Collector's Edition Ravensburger is going outside their usual stable of Lorcana artist and enlisting some big names from Disney animation history. In many cases they've enlisted the designers or lead animators which put their stamp on that character. Here we take a brief look into what makes these artists so special and why they were chosen for this set.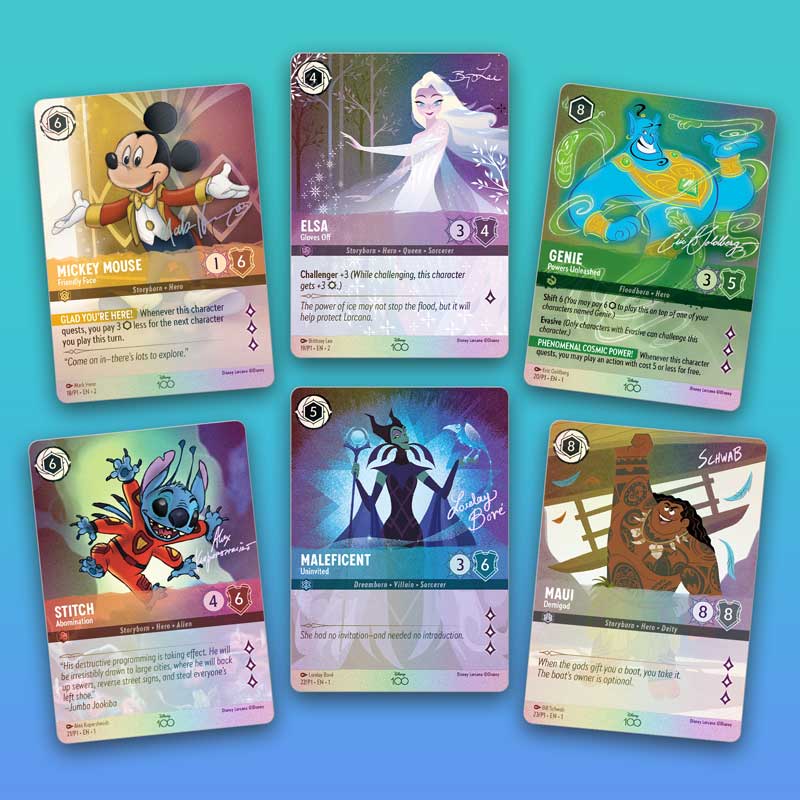 Mickey Mouse, Friendly Face by Mark Henn
Mark Henn has been working with Disney Studios since the 1980's his first credited work with the company was on 1981's The Fox and the Hound. He continues to work for Disney being a lead or supervising animator on numerous projects. Henn has been nominated for an Annie (animation) award four time for his character work in The Lion King (Young Simba), Mulan (Mulan) and Winnie the Pooh 2011 (Winnie the Pooh and Christopher Robin) and for directing the Disney short John Henry. He has also recieved a lifetime achievement award for his work in animation.
Elsa, Gloves Off by Brittney Lee
Brittney Lee is a relatively new addition to Disney animation, starting with her work on the animated short Paperman in 2012. She work on productions such as Wreck-It-Ralph, Zootopia, Moana and Raya and the Last Dragon. She is best known for her work on Frozen, having designed Anna's dresses and hairstyles for Anna and Elsa. She also help design the look of the world of Frozen by creating their own version of Rosemaling a regional folk art style that was used in background and costume design. Brittney is also known for her paper sculptures which have been featured in Disney's Wonderland Gallery and are likely the inspiration of the card art for Elsa, Gloves Off.
Genie, Powers Unleashed by Eric Goldberg
Eric Goldberg is a multi-talented animator, writer, director and voice actor with credits spanning across the industry. He has become known in Disney for having a talent for animating lovely side characters starting with his position as supervising animator of the Genie in Aladdin, but also leading Phil from Hercules and Louis from Princess and the Frog. Disney's Pocahontas was co-directed by Goldberg and Mike Gabriel and he directed segments of Fantasia 2000 and other shorts. He won awards for his work on Fantasia 2000 and The Princess and the Frog and has received a lifetime achievement award in animation.
Stitch, Abomination by Alex Kupershmidt
Alex Kupershmidt started working with Disney in the 90's starting on projects like The Rescuers Down Under and Roller Coaster Rabbit (A Roger Rabbit Short). After animation work on Beauty and the Beast and Aladdin he seemed to find an affinity for animal animation as he became the supervising animator of the Hyenas from The Lion King. His animalistic talents continued in being the supervisor for Mulan's Khan, Stitch from Lilo and Stitch and Koda from Brother Bear. Kupershmidt continued to work on numerous Disney projects and has transitioned to a 2D animation lead on more recent Disney movies.
Maleficent, Uninvited by Lorelay Bové
Lorelay Bové is unique in this set as she was not a Disney animator, instead she has primarily been a part of the Art Department. Having worked in Visual Development on Disney movies from The Princess and the Frog to Raya and the Last Dragon. Her work has been regularly featured in the Wonderland Gallery. Having a style almost calling back to the talent of Mary Blair or early Golden Books. A good example of her work is the Walt Disney Records: The Legacy Collection. Lorelay's sister Neysa has also worked with Disney in both the Costuming and Consumer Products.
Maui, Demigod by Bill Schwab
Bill Schwab is another talent animator with credits across the industry. Bill shines as a Character Designer with credits from shows from Disney, Fox Animation, Cartoon Network, Nickelodeon, and more. His Disney credit include Art Director of Characters on movies such as Moana, Frozen II and additional positions on Zootopia, Tangled, and Prep & Landing. His work on Prep & Landing: Naughty vs. Nice won him a Primetime Emmy for Outstanding Individual in Animation for which he also won an Annie award in addition to his previous Annie win from the original Prep & Landing.